Congratulations On The Purchase Of Your Professionally Refurbished Pc From Askchip.com. Our Factory Certified Refurbished Computers Undergo The Highest Standard Diagnostic Testing. In Addition To The Fantastic Deal You Have Received, We Provide A 1 Year Warranty Including Free Technical Support, Parts, And Replacement Of Unit From Date Of Delivery. In Order To Certify Your Eligibility For This Warranty, Please Register Your Purchase With The Below Form:
Most frequent questions and answers
What is not covered under warranty?
Systems without AskChip serial tags
Systems not specified in the plan
Physical damage or tampering
Lost or stolen equipment
Battery replacement
How do I find my serial number?
Your serial number is located on a sticker that is normally on the top of the system or on the side. Monitors will have the sticker on the lower back-side corner.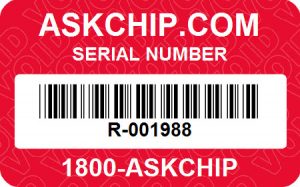 What is data recovery service?
In computing, data recovery is a process of salvaging (retrieving) inaccessible, lost, corrupted, damaged or formatted data from secondary storage, removable media or files, when the data stored in them cannot be accessed in a normal way.
It is good to know the importance of data recovery services when facing problems of data loss and unavailability. Data recovery services are very useful and allow you to recover lost information and data in situations where your hard drive or your storage media becomes corrupted or inaccessible.
How do I request support or repair?
Our Certified Technical Support Team is available to you from 9:00am to 4:30pm Eastern Time, Monday through Friday. Please feel free to send an email anytime at support@askchip.com
How long do i have to register my warranty?
You have 90 days from the purchase date to register your warranty.